15 RFID Blocking Sleeves (12 Credit Card Holders & 3 Passport Protectors)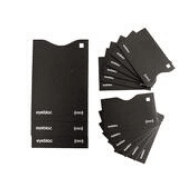 Premium Credit Card and Identity Theft Protection Sleeves for Woman & Men. Elegant Slim Design Fits Purse or Wallet
MODERN DAY TECHNOLOGY: In today's world, it is important to protect your credit cards and other important documents from data thieves. These "high-tech pickpockets" have the ability to skim and steal your personal financial in just seconds, and Eyebloc's RFID sleeves are an easy, affordable way to protect your important financial and personal information.
VERSATILE DESIGN: Not only do Eyebloc's RFID sleeves protect your credit cards from data corruption, but our US GOVT. FIPS 201 Approved product can also protect passports, debit and ATM cards, driver's licenses, and other RFID-enabled contactless cards.
HOW IT WORKS: Eyebloc's RFID sleeves are lined with an electromagnetically opaque shield to block signals and protect your information from high-tech pickpockets and other unauthorized electronic scanning devices.
HIGH QUALITY, SLIM DESIGN: Our RFID sleeves are made from a durable, water and tear resistant technology, and the credit card sleeves have a slim design easily slips into your wallet or purse without taking up extra space.